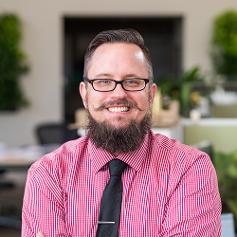 Broad-based professional experience in architectural and interior design including space planning, product knowledge, specification, drafting and modeling programs.
Coordination of consultants ensuring productive and effective work with all levels of management and a full range of personalities.
Ability to meet deadlines and work well under pressure.
Exceptional interpersonal, client service and liaison skills.
Presentation of a strong positive and professional image.
Strong impromptu hand sketching skills, isometric and perspective views.
Proven leadership abilities in professional, scholarly and military environments.
Experience designing, developing, and facilitating college level coursework.
Keen sense of architectural and interior design style, able to adapt to client's intent.
perspective magazine article, Spring 2008
My career path started over 3 decades ago in my father's upholstery workshop. I feel my heart is held together with thread, glue, & upholsterer's tacks. My favorite memories are working in the wood shop where my grandfather taught me the trick of applying soap to wood screws to make them drive easier. My father and mother instilled in me a solid work effort and to pick myself up when things don't go as planned. I currently work for Desmone Architects designing various projects through out the Western Pennsylvania region.
Prior to Desmone Architects I worked for Kossman Development Company (KDC) designing Pittsburgh's commercial, retail and residential properties. Before joining KDC, I was the retail store designer for Giant Eagle supermarket, a Forbe's ranked company. My primary role was to develop and maintain their flagship brand, Giant Eagle Market District. I lived in Phoenix, Arizona prior to moving back to the area that I grew up in. My first interior design position after graduating college was with Dick & Fritsche Design Group. There I honed my education and life experience working on award winning projects.
I am an alumnus of Arizona State University's (ASU) Herberger Institute for Design and the Arts - School of Design Innovation and was named the school's Outstanding Graduate in 2006. I helped update ASU's Interior Design program's traditional hand drafting course with current computer aided drafting techniques. I have also earned degrees from Stayer University and Pittsburgh Technical College (PTC). I enjoy helping upcoming professionals; I have spoken with students at PTC, guest critique at La Roche College as well as my alma mater, was involved with ASU's summer design workshops and ASU's Medallion Scholarship Selection Committee.
I proudly served 8 years in the United States Navy. I spent 5 years on the USS Kearsarge (LHD-3) and my last few years in the service were spent at the White House Communications Agency (WHCA) as a photographer. My service allowed me to nurture a love of photography, allowed me to see some of the world's great architecture and to gain valuable life experience or as I like to call it "sea stories."
In between all these accomplishments, I have done a variety of different jobs, I have framed houses in the desert, I have climbed steel rigging for rock concerts, I have been a prop artisan and I have worked in a butcher department. I currently live in Greensburg, Pennsylvania and serve on the city's Planning Commission. In my off time I enjoy photography, hiking & downhill skiing, tattoo inspired art work along with spending time with family and friends, especially with my wife and our French bulldog.